Season 3
#35 Anne Rating: Mine: 1 cross




#36 Dead Man's Party: Rating: Mine: 1 1/2 crosses




#37 Faith,Hope and Trick: Rating: 5 crosses




#38 All Men are Beasts: Rating: 5 crosses



#39 Homecoming: Rating: 4 crosses



#40 Band Candy: Rating: 4 1/2 crosses



#41 Revelations: Rating: 4 1/2 crosses



#42 Lover's Walk: Rating: 5 crosses


#43 The Wish: Rating: 4 crosses



#44 Amends: Rating: 5 crosses



#45 Gingerbread: Rating: 3 crosses


#46 Helpless: Rating: 2 crosses



#47 The Zeppo: Rating: 3 crosses


#48 Bad Girls: Rating: 1 cross


#49 Consequences: Rating: 1 cross



#50 Doppelgangland: Rating: 3 1/2 crosses


#51 Enemies: Rating: 4 crosses


#52 Earshot: Rating: 5 crosses



#53 Choices: Rating: 3 crosses


#54 The Prom: Rating: 5 crosses Brandy's rating: 4 1/2 crosses



#55 Graduation Day Part 1: Rating: 4 crosses Brandy's rating: 2 1/2 crosses


#56 Graduation Day Part 2: Rating: 4 1/2 crosses Brandy's rating: 4 1/2 crosses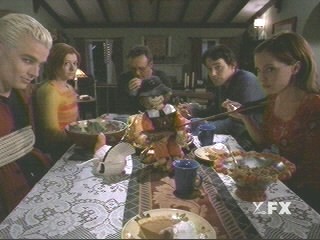 Season 4
#57 The Freshman: Rating: 4 crosses Brit's rating: 3.5 crosses
It was a fairly good seaon opener, at least better than last
year's 'Anne.' The tension between Buffy and Kathy is already quite
enjoyable to watch, very funny. I was kind of disappointed to see Buffy
pretty much getting her ass kicked by a vampire (did anyone else notice that
she was a lot like Harmony, except slightly wittier?), but I guess she can't
be perfect all the time. The episode wasn't perfect, either, but still a
good watch.


#58 Living Conditions: Rating: 3 1/2 crosses Brit's rating: 3 crosses
The 'share-time' thing was great, absolutely loved it!
The whole idea of the Scoobies thinking Buffy went insane seemed sort of
tacky to me, but I know a lot of people who enjoyed it. I must admit, I was
sort of sad to see Kathy leave, she was funny, but I'm glad that Willow is
not Buffy's roommate.

#59 Harsh Light of Day: Rating: 3 crosses Brit's rating: 4 crosses
Mercedes McNab, who plays Harmony, is really quite
talented, and I really enjoy her portrayal or Harmony every time she is on
Buffy. This was a very Spike/Harmony-centric episode, which is always good
to see. I loved the ending, when she decided to send the gem to Angel...yay!
B/A Forever, LoL! Good writing, good plotline, and good acting.

#60 Fear, Itself: Rating: 4 1/2 crosses Brit's rating: 4 1/2 crosses
Once you get over the similarity to Nightmares, this is a
really fun episode. It's one of the two episodes I think is ACTUALLY scary
(the other being Killed By Death). Anya's costume was great, the scene with
Giles in a somebrero cracked me up, and the special effects were great,
especially the window closing up. For a filler episode, this was really
really good.

#61 Beer Bad: Rating: 3 crosses Brit's rating: 2 crosses
After last week's great filler, I suppose my expectations were too
high when I expected this one to be just as good. Sadly, it was not. Sorry
to anyone who actually liked it (although thre weren't many), but this
episode sucked. I'm sure this role must have been hard for Sarah, but I
didn't think her acting was up to par this week. The plot was stupid, and
the whole thing was just plain idiotic. Hope that next week we get an
episode worth watching.



#62 Wild at Heart: Rating: 2 1/2 crosses Brit's Rating: 3.5 crosses
One of the few (actually, many, now that I think about it)
episodes that makes me cry. Oz was one of my favourite characters, and I
found myself asking: Why can't you just work it out? I hope he comes back!
The Spike-getting-zapped scene was interesting, it'll be cool to see what
happens to him. I don't have much else to say about this episode, except
that I MISS OZ!



#63 The Initiative: Rating: 3 1/2 crosses Brit's rating: 5 crosses
Spike was hilarious in the episode! "Always worried what
would happen when that b*tch got some funding." Cool idea with the chip, but
I hope that our favourite British vampires doesn't go all soft on us! This
was a great episode. Although I love Riley-bashing, I think his character
isn't actually all-bad. Props to Doug Petrie, for writing this top-notch
episode, it was delightful (Dammit, I'm running out of positive
adjectives!). Great work, Joss&Co, keep it up!



#64 Pangs: Rating: 4 crosses Brit's rating: 4 crosses
As the biggest B/A shipper out there, I LOVED this episode. It was
great to see Angel back, even if Buffy couldn't see him, *sigh*. This was a
slightly confusing episode for me, I don't know why. Maybe it's me. Anyways,
I loved how everyone thought Angel was evil, and how Angel still loves
Buffy...ah, good times, good times. It was nice to see a Thanksgiving
episode, especially with this kind of twist.


#65 Something Blue: Rating: 5 crosses Brit's rating: 4.5 crosses
I think I could sum this episode up in one word: Fun. A lot
of people said this episode was just fan fiction that made it up on to the
screen, but the fact is, it was still a good episode. Probably on my Top 10
list, in fact. It seemed to take too long to get started, but that was my
only problem with it. The Spike/Buffy interaction was great, Giles' eyesight
problem just added to the already
falling-off-my-chair-laughing-side-splitting comedy. Like I said, it was a
super fun (aah, I have GOT to stop talking like Kathy!) episode. Great
filler.



#66 Hush: Rating: 5 crosses Brit's rating: 5 crosses
Wow, two great episodes in a row. I don't think Buffy gets much better
than this! 27 minutes without dialogue, that's pretty impressive, Joss. Too
bad he didn't win the Emmy he was nominated for. Anyways, I don't think I
could say enough good things about this episode! Definitely a new idea, and
definitely a risk taken, but Joss executed it beautifullly. The ending left
a lot of questions open, which is actually a good thing, I know I'll tune in
next week.



#67 Doomed: Rating: 1 1/2 crosses Brit's rating: 3.5 crosses
Am I the only one that misses the high school?! It was great to see
it back, but one thing bugged me-if the entire blew up, how come the floor
was totally littered with old paper? Wouldn't they have just burned up?
Anyways, this was a fairly good episode. Nothing could have beat last week's
'Masterpiece Episode,' but still a good offering. A few funny lines here and
there, some good acting, but nothing special this week.



#68 A New Man: Rating: 4 crosses








#69 The I in Team Mine: 3 1/2 crosses








#70 Goodbye, Iowa Mine: 4 crosses


#71 This Year's Girl Mine: 2 1/2 crosses



#72 Who Are You Mine: 4 crosses


#73: Superstar: Mine:4 1/2 crosses


#74: Where The Wild Things Are: Mine: 2 crosses



#75: Wild at Heart: Mine: 3 1/2 crosses


#76: The Yoko Factor: Mine: 4 crosses


#77: Primeval: Mine: 3 1/2 crosses

#78: Restless: Mine: 4 1/2 crosses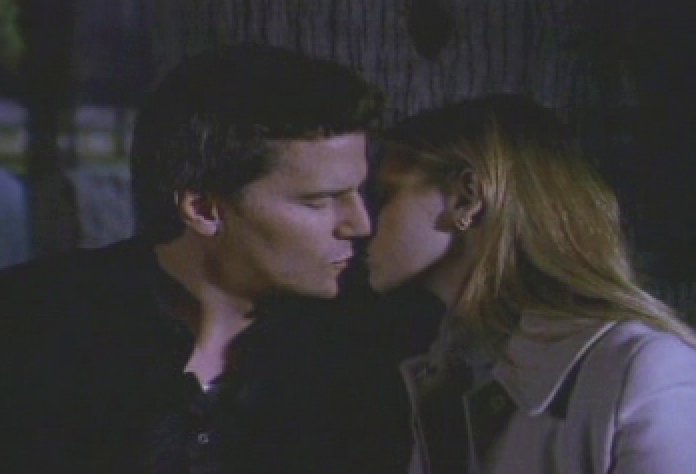 #79 Buffy Vs. Dracula Mine: 3 1/2 crosses
#80 Real Me Mine: 2 1/2 crosses
#81 The Replacement: 4 crosses
#82 Out Of My Mind: Mine: 2 crosses
#83 No Place Like Home: Mine: 3 crosses
#84 Family: Mine: 3 crosses
#85 Fool For Love: Mine: 5 crosses
#86 Shadow: Mine: 3 crosses
#87 Listening to Fear: 3 1/2 crosses
#88 Into the Woods: 4 1/2 crosses
#89 Triangle: Mine: 2 1/2 crosses
#90 Checkpoint: Mine: 4 1/2 crosses
#91 Blood Ties: Mine: 3 crosses
#92 Crush: Mine: 4 1/2 crosses
#93 I was Made to Love You: Mine: 1 1/2 crosses
#94 The Body: Mine: 5 crosses
#95 Forever: Mine: 4 crosses
#96 Intervention: 4 1/2 crosses
#97 Tough Love: Mine: 3 crossesz
#98 Spiral: Mine: 3 crosses
#99 The Weight of the World: Mine: 4 crosses
#100 The Gift: Mine: 5 crosses